Meet the Funny Ladies Behind the New Web Series Reasons I Don't Have A Boyfriend
Forget signing up for The Bachelorette, these ladies know the real reasons why you're single. Meet Steve McQueen's granddaughter, Molly McQueen and fellow actress Caitlin Harris of the new online web series, Reasons I Don't Have a Boyfriend. The duo met in acting class and one night during a gas station shopping trip, they decided to take initiative and create this hilarious video series about giving up their search for "Mr. Perfect" in favor of "Mr. Kind of Normal."
"When you're single Slurpee's and Cheetos are acceptable for dinner," says Harris. "We were just like 'yeah, we gotta create this series for all the single babes out there' and we did!"
Every Tuesday, the ladies and their team write, produce and upload a new video to their YouTube channel and website. Each of the "reasons" is based off a true story and so far they have covered being too competitive, acting thirsty and what happens when we can't hang with the guys.
"Every girl has at least a few bad dating stories up their sleeve! I think there are shows where that's explored from the male perspective and why guys f--k up relationships, but we wanted to breathe some new life into it and focus on the girls being the catalyst for some trouble," says McQueen.
College Living Magazine sat down with McQueen and Harris to talk about the process of creating the web series, their worst date experiences, and using social media to launch their series.
How did you go about creating the series? Things like writing the script, casting actors and a crew, and so on.
Molly: Once we had the idea, we started building from there. I was introduced to Matthew by an old manager who I then brought to Caitlin. All three of us vibed big time and had a similar vision for what we wanted the show to be. From there on out - it's been the three of us. Usually, one of us will write the first draft of an episode and then it will be passed around for everyone to work on and punch up. Casting actors is the best part because we're finally on the other side! Luckily, we have an unlimited supply of talented friends. The crew was mostly Matthew's doing - he recommended people he'd used from other shoots who all were wonderful.
Caitlin: Molly McQueen, Matthew Vaughan and I all write the episodes together. I'll come up with an idea (or Matthew or Molly) then we'll all do our own pass on the script. It's very collaborative. I also love having Matthew (our director) write with us because he brings that much needed male voice to our episodes. All of the actors we cast were people we had worked with before or in acting class with. I love using people from class because I know they will deliver and we'll have a ton of fun shooting.
Do you think there are any difference between female and male comedy writers?
M: Of course. How could that thing in between your legs not affect how you see the world and what you want from it! I love that our show is so female-centric and celebrates our flaws and trouble that we get into - but we also have Matthew throwing in his pinch of male perspective that I think makes for a solid finished product.
C: No. I think there's a difference between each writer, whether it'sfemale or male. Each writer has a totally different style or way that they see the world so to put male and female into two categories of writing is wrong.
Which comedians do you ladies admire?
M: Every single one of them. It takes such balls. Specifically - Kristin Wiig, Julia Louis-Dreyfus, Tina Fey, Amy Schumer, Carol Burnett, and Rachel Dratch.
C: Right now I'm lovin' Amy Schumer. Also, Kristen Wiig, Maya Rudolf, Jack Lemmon, Aziz Ansari, the list goes on and on.
Where do you see the series going from here?
M: The goal first and foremost is to make more! Ultimate goal: the boob tube.
C: Stay tuned and you will find out!
Do you have any particular networks you think the series is more suitable for?
M: I think there a bunch of different versions of the show. Don't wanna limit ourselves!
C: It would be awesome on a cable network like FX.
I really enjoyed the videos so far! You both mentioned that the "reasons" mirror your real-life dating experiences. Can you tell us more about the weirdest thing you've ever done on a date?
M: Thank you so much! Yes! Every one of the episodes is rooted in reality. College was...let's just say...full of experiences. Got myself into some dating trouble. But hey, it all happened for a reason, right? As for weirdest dating experience: Don't judge me. It was once. I said I was going to the bathroom and never came back. I texted him saying I had to leave because I got sick. I can usually hang in there if it's not going well, but this was awful and creepy and not worth it.
C: Yes absolutely! Each episode comes from a real life experience. Obviously they are heightened for comedy but you're basically watching our past dating life. I went on a date with this guy who was super gorgeous. I was really nervous and when I get nervous I sweat a lot (sexy, I know). Anyway, halfway through the date my shirt was literally drenched. I remembered I had some clothes in the car so I played it off like I was going to the bathroom and ran out to my car and changed my shirt. Because he's not f---ing blind he noticed. Shockingly, there was no second date.
How would you describe the LA dating scene?
M: The dating scene in LA is a lot like Target on Black Friday. Busy, messy, and girls from the suburbs already snagged anything worthwhile.
C: Rough. Just...rough.
How many episodes in a season can viewers look forward to?
M +C: We're figuring that out now! We want to make as many as possible, but maybe five. Let's win the lottery. Cool? Cool.
Speaking of which, how long does it take to produce an episode?
M +C: We worked pretty fast on these. To shoot, we would take about a day per episode. The writing is usually what takes the longest. Because they're short we can film them pretty quickly and Matthew has been great with the turn around time with editing.
Your social media game is on point! Have you found that using Instagram and updating the Facebook page help dive traffic to your videos? If so how?
M: It's all about social media. Instagram is usually where people find out first about things - having friends post for you to spread the word, etc. help a lot. Facebook is awesome for sharing the videos, keeping people updated, etc. I think it's important to be accessible and I also don't think REASONS is necessarily just a show. It's an attitude about dating, having experiences, interpreting situations. All things that lend itself to social media.
C: Oh absolutely. It's all word of mouth. Girls are always tagging their friends on our instagram telling them to watch the show. I think now a days that's how you get viewers.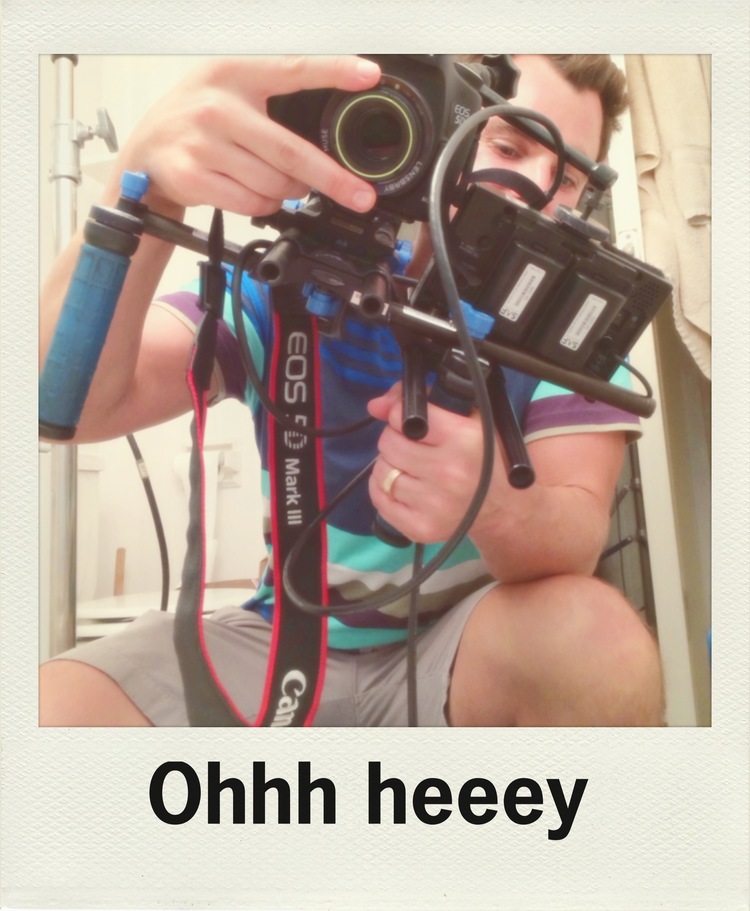 Rapid Fire:
90s TV crush?
M: JTT - 1st true love
C: Shawn from Boy Meets World. I guess my 8-year-old self loved those bad boys.
Fav LA neighborhood?
M: Venice
C: Depends on my mood, but Studio City.
Chris Pratt, Chris Pine, Chris Evans or Chris Hemsworth?
M: Pratt
C: Chris Pratt. Although, I wouldn't kick the other Chris's out of bed.
If you were a real housewife, which one would you be?
M: Caitlin will love this question. I don't watch! It's the one vice I've been able to hold out on! Don't make me give in.
C: Ramona